Alumni Association
Welcome Back People! Alumni Greets you with new Face
An opportunity for the past to coalesce for a while with the present and provide greater opportunities for the college to attain greater heights as the experience of the past helps guide the untapped potential of today. A full day event where Alumni present their experiences and interact with the present batches apart from reminiscence of the golden years of their life here. It also provides alumni to connect with each other, to catch up on the good old times and another chance at business networking.
The Vivekanandha Institute of Information and Management Studies Alumni Association (registration no: 83/2015) is founded on October 2015. The association endeavors to strengthen the ties among its alumni by addressing the concerns of members with a view to learn and adapt to changes that are necessary.
This Alumni Association works as an interface for maintaining the relationship with the alumni and to involve them in the development and growth of the institution.
It promotes and encourages the alumni to exchange professional knowledge by organizing conferences, seminars, lectures and meetings amongst alumni, students, faculty and others. Since Continuous interaction with Alumni.
Since Continuous interaction with Alumni.
Executive Committee Members List
| | | |
| --- | --- | --- |
| Name | Occupation | Designation |
| S.Priyambhigai | Business | President |
| E.Lavanya | Business | Vice President |
| J.Kokilavani | Assistant Professor | Secretary |
| T.Rocky Devi | Assistant Manager | Deputy Secretary |
| V.Thulasimani | Lecturer | Treasurer |
| R.Buvaneswari | Private Job | Executive Member |
| G.Suganya | Private Job | Executive Member |
Events
Chennai Chapter
Greetings from Vivekanandha. We are extremely delighted to say...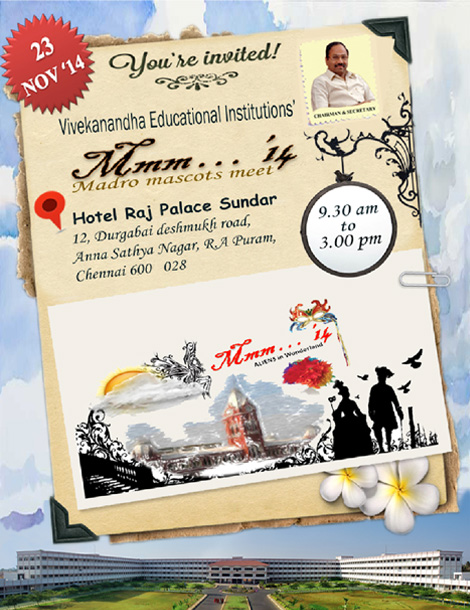 Landmark to the Venue:
Opposite to Sathya Studio ; Opp to MGR Janaki Womens' College
Nearest locations: Mandaveli & Adyar

Kindly confirm your registration by responding to this mail on or before 15.11.2014. An alumna can be accompanied by a maximum of 1 person
Mandatory attachments with your response mail
Filled Registration forms
Filled Alumnae contact sheet (Refer your Seniors, Batch-mates & Juniors for the meet )
'The most memorable photograph' of your college days
For any further clarifications please call back to Aarudhra Dharshini 9443316545 or mail us at veialumnifm@gmail.com
Bangalore Chapter
Dear Alumna's Warm Greetings from Vivekanandha Educational Institutions, We are planning to contact alumnae meet Bangalore chapter on 15.02.2015.
Venue
KEYS HOTEL, HOSUR ROAD,
Opposite Live 100 Hospital,
Near Electronic City , Hosur Main Road,
Bangalore - 560 068, Karnataka.
Tel: +91 (080) 3944 1000
Kindly confirm your registration by responding to this mail on or before 3.02.2015
Note: An alumna can be accompanied by a maximum of 1 person
Mandatory attachments with your response mail
Filled Registration forms
Filled Alumnae contact sheet (Refer your Seniors, Batch-mates & Juniors for the meet )
'The most memorable photograph' of your college days
For any further clarifications please call back to 9443734427/ 9443316545 /04288234125 or mail us at veialumnifm@gmail.com/ veiplacementcell@gmail.com
Gallery
Contact Us
Vivekanandha Institute of Information and Management Studies,
Elayampalayam, Tiruchengode - Tk
Namakkal District,
Tamil nadu-637 205.

Ph : 04288 - 234030
Fax : 04288 - 234130
m : viimsmba@gmail.com
Feedback Form